Festival Site Updates
August 15, 2017
Travel and activity information
A description of activities and travel details for the Barbados site has been posted. Check out what will be happening by viewing the welcome letter and schedule.
---
Site Description
Barbados, an island of breathtaking beauty, is a safe island with charismatic, warm and friendly people.
This gem of the Caribbean is an ideal destination for those seeking a relaxing tropical experience. It has a pleasant year-round average climate of 23 degrees Celsius (73 degrees Fahrenheit). It is the furthest east of the Caribbean islands.
It has many picturesque, white, pristine sand beaches with turquoise waters. One can swim and sunbathe in the glorious rays of the sunshine. Your spirit will undoubtedly be lifted by the gentle tropical breeze.
One can explore beneath the sparkling seas and view the extensive reef formations. The underwater world is landscaped with preserved coral reefs inhabited by colorful and plentiful marine life.
On June 25, 2011, UNESCO announced the inscription of Historic Bridgetown and its Garrison as a World Heritage site. A big part of Barbados' rich cultural and architectural heritage can be found in a wide range of built treasures, which are quintessentially Barbadian in design, materials, construction and details.
Local markets are filled with the taste of tropical and local handicrafts.
Services will be held at Infinity on the Beach in St. Lawrence Gap, Dover, Christ Church, infinityonthebeach.com. The hall allows comfortable seating for everyone.
There will be a variety of affordable housing located within close proximity of the main conference center. Accommodations range from luxury hotels to self-catering apartments and intimate guest houses.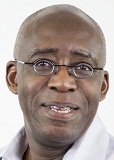 For more information, please contact Arnold Hampton by email at arnold.hampton@cogwa.org.
Arnold Hampton