Festival Site Updates
August 17, 2017
Family Day details
If you are interested in attending the planned Family Day and Dinner on Monday, Oct. 9, please view the Family Day Order Form. To effectively plan for this outing, we require advanced registration and payment. These details are outlined in this form.
July 13, 2017
Feast activity information available
A description of activities for the Redmond site has been posted. Check out what will be happening by viewing the activities and schedule.
June 28, 2017
Pianists needed!
We are in need of pianists to accompany hymns at the Feast in Redmond this year. If you currently accompany hymns, or have accompanied hymns in your local congregation, we need your help! If you can serve in this capacity, please contact our Redmond special music coordinator, Janet Pachinger. She can be reached via email at jpachinger3@gmail.com.
---
Site Description
Our Pacific Northwest Feast of Tabernacles site for 2017 will return to Redmond—the "crossroads of central Oregon." Redmond is located approximately 140 miles from the Portland International Airport.
We will be utilizing the Eagle Crest Resort for our Feast of Tabernacles services, as well as a number of other activities. The Eagle Crest Resort is located just a few miles outside the actual town of Redmond. The resort will also serve as our primary housing locale with a variety of different housing options. The spacious ballroom-style meeting facility at Eagle Crest will serve as our meeting hall for daily services.
The area has a wide variety of outdoor activities. Hiking trails are in abundance in the area, as well as in the Cascade Mountains, located just 30 minutes away. Several picturesque lakes are located nearby, as well as the Deschutes River if you enjoy fishing.
If you are looking for a unique experience, take a 20-minute drive to the western-themed town of Sisters. Antique shops, one-of-a-kind stores and restaurants make for an interesting afternoon visit to this quaint town. You can also find restaurants and shopping in the town of Redmond or a little farther down the road in Bend. The area has a variety of antique and boutique-style shops and restaurants for all budgets.
If you are looking for a laid-back, slower-paced, country Feast site, come keep the Feast in Redmond this year.
Fragrance-controlled room available: No.
Tax rate for accommodations: 10 to 16 percent.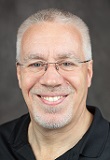 Closest airports: Redmond (RDM), 8 miles; Portland (PDX), 150 miles.
Jon Pinelli