Go Up to the Feast
by Jim Franks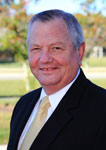 The Feast of Tabernacles is the single most anticipated event of the year in the Church of God, but it is only one of the festivals that God has commanded us to keep. In God's plan of salvation, it is difficult (actually impossible) to label one festival as more important than another.
What if there was no Passover? How can anyone be saved without the sacrifice of Jesus Christ? What about the Days of Unleavened Bread? If we fail to remove sin from our lives, we have no hope of being in the family of God. Pentecost is the founding of the Church, the coming of the Holy Spirit and the sealing of the firstfruits all rolled into one.
Key Dates
Feast of Tabernacles - Oct. 9-15, 2014
Last Great Day - Oct. 16, 2014
Complete Festival Calendar
Updates
Feast Sites Still Open
The majority of our 2014 Festival sites still have space for more people to attend. There are, however, two important exceptions: Orange Beach, Alabama, and Ashbourne, Ireland, are both already at capacity and cannot accept anyone else. If you need to make changes in your Feast plans, please keep this in mind when updating your registration information.