Festival Site Updates
October 12, 2016
Construction Delays Update
The Colorado Department of Transportation is now reporting intermittent lane closures on I-70 near Georgetown, causing delays of up to 1½ hours. It is not totally clear how much weekends and after hours are affected. If you're coming from the Denver area, we definitely recommend that you take Highway 40 from I-70 west of Idaho Springs but before Georgetown. This involves both eastbound and westbound traffic, so it will likely hold true going to Denver from Steamboat after the Feast.
The Highway 40 route goes over Berthoud Pass, through Winter Park, Granby, Hot Sulphur Springs and Kremmling. Under normal driving conditions, it is only about 10 minutes slower than taking Highway 9 from Silverthorne.
If you have the technology, you can check www.cotrip.org in addition to using the 511 road information number.
October 10, 2016
Sheraton confirmation
For those who plan to stay at the Sheraton, your confirmation may say you are being charged a resort fee of $25 per night plus tax ($2.91). Please be aware this is not correct. This is part of their standard confirmation letter that did not get changed. COGWA has a reduced resort fee of $5 per night plus tax ($0.58). Please be sure you get charged the correct amount.
October 6, 2016
Construction delays
Please be aware that there could be construction delays between Silverthorne and Kremmling on Highway 9. A recent report says that this construction should be completed very soon. Traffic updates, including construction delays, are available by dialing 511 and following the menu.
Here are two alternate routes just in case the construction is not complete when you travel to Steamboat Springs:
Take Highway 40 west of Idaho Springs and over Berthoud Pass, through Winter Park, Granby, Hot Sulphur Springs. This route meets Highway 9 at Kremmling. There may be some minor construction projects along this route, but as far as we know nothing that would cause a long delay. Normally Highway 9 is the fastest route, but not with a delay of up to 45 minutes.
Take Highway 131 north from Wolcott (west of Vail). This route ends at Highway 40 just south of Steamboat Springs. This will probably take at least 20 minutes longer, but it has some pretty scenery along the Colorado River.
We are looking forward to seeing all of you soon! Since there has been snow in the high country and some in Steamboat, make sure to bring those coats!
Larry Neff
September 28, 2016
Food bank donations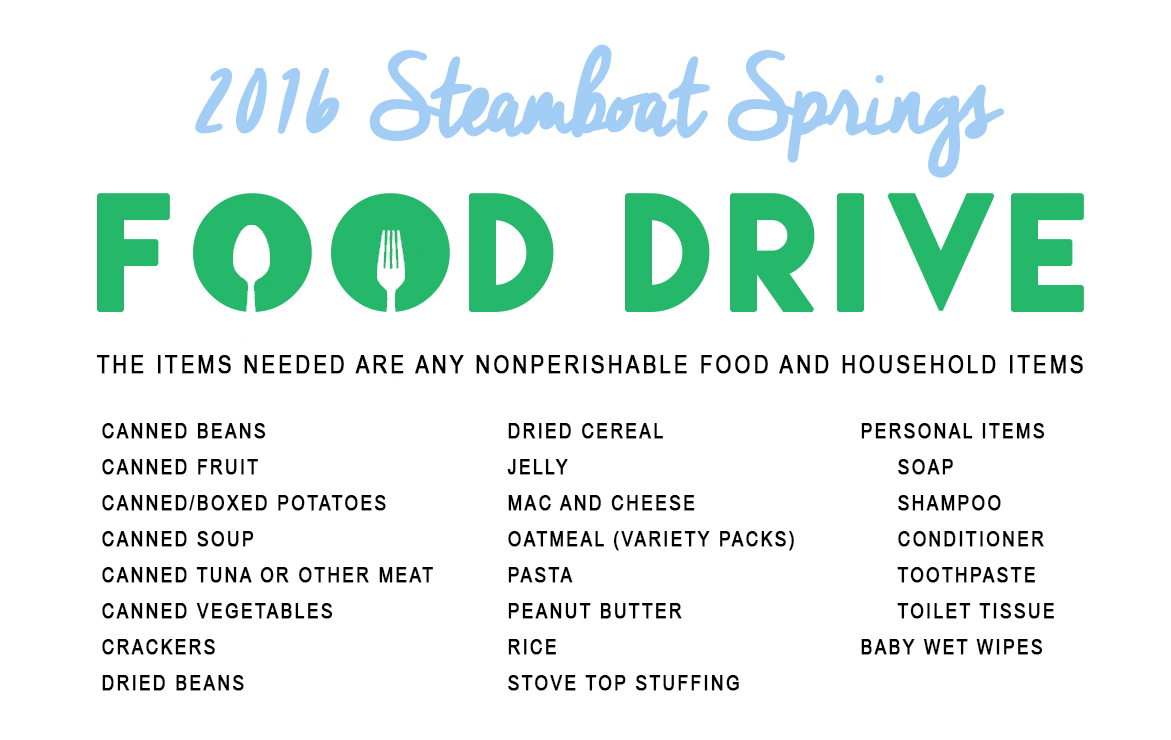 This year we have a wonderful opportunity to serve the community. COGWA is hosting a food drive to help the local food bank in Steamboat Springs, LiftUp of Routt County. LiftUp supplies food for those in need, including senior boxes, which supply supplemental food for senior citizens, and Rocket Packs, which provide healthy food to school children to make sure they are not preoccupied with hunger. This food bank program relies heavily on community support.
Please help us fill the tables with much-needed canned food, nonperishable goods and personal items. The food drive will be held Tuesday, Oct. 18, through Monday, Oct. 24. There will be a flyer on the information table with a list of items needed. Thanks for participating and helping COGWA shine our light in the community.
September 27, 2016
Instrumental ensemble
Attention all musicians going to Steamboat Springs for the Feast!
If you are interested in participating in an ensemble to back up hymns, please bring the following items:
Instrument.
Transposed hymnal (for Bb or Eb instrument).
Music stand.
The ensemble will meet by the stage 30 minutes prior to the opening night service. If you plan to participate, please email your contact information to our special music coordinator, Mark Whynaucht, at mark.whynaucht@cogwa.org. Please provide this information as soon as possible so we can be sure to have enough seating for the ensemble participants.
September 8, 2016
Activity registration
With not much more than a month before the Feast, activity registrations are at a very low level. Please keep in mind that once the Feast begins there will not be time to plan for additional numbers for Family Day and the young adult activity. We have to know our numbers in advance in order to make needed preparations. It would be unfortunate if we had to cancel an activity, but that is possible. It would be very helpful if you could give this your immediate attention. Please look over the activity descriptions and then fill out and mail the ticket order form if you would like to participate.
August 22, 2016
Deadline updates and reminders
We would like to give everyone a few updates and reminders for the Steamboat Springs Feast site. Please check to see if any of the points below apply to you:
There is still plenty of time to sign up for the deacon and elder luncheon scheduled on the Last Great Day. The early deadline for requesting the form that was mentioned in the activity descriptions was inadvertent. Please e-mail larry.neff@cogwa.org to request the menu and order form. So far we have received very few requests.
The deadline for registration of other activities has been extended to Saturday, October 1, but we would appreciate receiving these prior to this new deadline.
The singles' reception will take place before services on Tuesday, October 18. Please check the brochure for details after the opening night.
We have a room that can be used for fragrance control, but we have heard of no one needing it. Please e-mail Larry Neff at larry.neff@cogwa.org if you would benefit from this.
The location for Sabbath services on October 15 has been moved from the Twilight Room to the Storm Peak Room, which is a section of the ballroom. Services are still scheduled to begin at 2 p.m.
July 22, 2016
Location of Sabbath Services on Oct. 15
For those traveling in ahead of time, Sabbath services on Oct. 15 will take place in the Twilight Room of the Sheraton Hotel at 2 p.m. The address is 2200 Village Inn Court, Steamboat Springs, CO 80477.
Please email Larry Neff (larry.neff@cogwa.org) if you plan to attend this Sabbath service in Steamboat Springs prior to the Feast.
July 15, 2016
Schedule and activities posted
Activity information for Steamboat Springs has been posted. Check out the schedule and activities planned! Also, be sure to look at the ticket order form to order tickets for Family Day, the young adult activity and to let us know if you'll be attending Sabbath services in Steamboat Springs on Oct. 15.
April 26, 2016
Special music coordinator announced
The special music coordinator for the Steamboat Springs Feast site is Mark Whynaucht. If you'd like to perform special music or participate in the Festival choir, please be sure to indicate that when you register for the Feast. If you need to contact the special music coordinator directly, feel free to email him at .(JavaScript must be enabled to view this email address).
---
Site Description
This ski resort town of 12,000 offers a number of attributes attractive to Feast-goers. One of those attributes is our host hotel, the Steamboat Sheraton at 2200 Village Inn Court. It is an excellent facility, offering an array of accommodations, from hotel rooms at $99 to three-bedroom units at $200. A resort fee of $5 per night will be added and covers Wi-Fi and underground parking, among other things.
More economical housing will be available, but it will be a great help to the Church in keeping costs down if everyone who is able will stay at the Sheraton.
Steamboat Springs features a variety of restaurants, including some fine dining establishments and restaurants within the hotel. Recreational opportunities abound: hiking, fishing, hot air ballooning, rock climbing, ice skating, golfing, horseback riding and ATV riding, to name a few. Some of the better attractions to visit are Fish Creek Falls, Old Town Hot Springs and three nearby state parks (Steamboat Lake, Stagecoach Lake and Pearl Lake).
A free shuttle will take you almost anywhere in town. Denver International Airport is three hours away; and the Yampa Valley Airport is about 25 minutes. Recommended shuttle service to and from Denver International is Alpine Taxi, 800-343-7433 or alpinetaxi.com.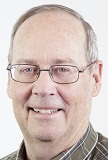 Tax rate for accommodations: 11.65 to 21.9 percent.
Closest airports: Yampa Valley (HDN), 28 miles, and Denver (DEN), 178 miles.
Larry Neff