Site Description
Grenada, an emerald jewel in the sapphire Caribbean Sea, is known as the Spice Isle. Grenada is famous for spices and is known for producing nutmeg, cloves, ginger, cinnamon and cocoa. There's much to do on this tiny isle, including soaking up the sun on pristine beaches while swimming in the warm, tropical ocean; visiting the Diamond Chocolate Factory, which was featured in National Geographic so its delicious products; or scuba diving in the underwater sculpture park at Molinere Beauséjour Marine Protected Area.
Grenada's capital, St. George's, overlooks one of the Caribbean's most picturesque harbors.
The Grenadian brethren are warm, friendly and are always looking forward to hosting visiting brethren. Grenada will be a satellite site with services webcast from other sites. If you're interested in attending this small site, please contact Arnold Hampton at arnold.hampton@cogwa.org for details.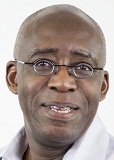 Arnold Hampton