Festival Site Updates
September 16, 2016
Pigeon Forge volunteering
WE NEED YOUR HELP! We are really needing some help on our parking crew and security crew at the Feast this year. If you would be willing and able to serve in this much-needed way, please contact Taylor Tootle as soon as possible at taylortootle@gmail.com. Thank you for your service.
July 22, 2016
Location of Sabbath Services on Oct. 15
For those traveling in ahead of time, Sabbath services on Oct. 15 will be held in the west Knoxville area, about an hour's drive from Pigeon Forge. Services begin at 3 p.m. (Knoxville is on Eastern Time.) The location is Farragut Assembly of God, 416 North Campbell Station Road, Farragut, TN 37934.
This is just off of I-40/I-75 and the Campbell Station Road (exit 373) in west Knoxville. Once you exit, drive south on Campbell Station Road approximately half a mile (through two traffic lights) and look for the church building to your left. On Google maps, it is identified as "Christ Connection Church." There is a blue sign at the entrance and on the building that clearly identifies it as the Farragut Assembly of God.
July 15, 2016
Schedule and activities posted
Activity information for Pigeon Forge has been posted. Check out the schedule and activities planned! You'll especially want to note there are two activities that require advance ticket purchase or commitments: a group outing to the Dixie Stampede and a golf scramble.
April 26, 2016
Special music coordinator announced
The special music coordinator for the Pigeon Forge Feast site is Dave Myers. If you'd like to perform special music or participate in the Festival choir, please be sure to indicate that when you register for the Feast. If you need to contact the special music coordinator directly, feel free to email him at .(JavaScript must be enabled to view this email address).
---
Site Description
Nestled in the foothills of the Smoky Mountains, Pigeon Forge, Tennessee, is known as one of the top family vacation destinations in the country. If you enjoy the outdoors, there is much for you. The Feast of Tabernacles takes place during the time when fall colors are in full array, and the area's natural beauty brings out the outdoorsman in everyone. If you enjoy quality family time, good family entertainment, a wide selection of restaurants and plenty of shopping, you will love Pigeon Forge.
Although the area is known for its many crafts stores, its wonderful musicians and its countless go-kart tracks and miniature golf courses, it also boasts one of the most active, well-represented outlet malls in the entire country. Additionally, in neighboring Gatlinburg you and your family can take in the beautiful Ripley's Aquarium of the Smokies. We are planning to put together a well-balanced activity schedule sure to interest all tastes.
Housing consists of a variety of motel rooms with many offering a full breakfast in the rate. And, of course, there are also beautiful 1- to 4-bedroom condos or—for those with extended families wanting to share—there are large chalets and cabins that sleep up to 30! Housing prices begin at $65 per night and go up from there. This is also an area with several campgrounds for those who might enjoy camping during the Feast.
Pigeon Forge is easily traveled. There is a divided highway through the middle of the town. The Smoky Mountain Conference Center has free parking and has no steps, so it is also easily accessible for everyone. Hope to see you in Pigeon Forge.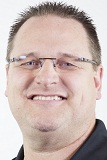 Tax rate for accommodations: 12.25 percent.
Closest airports: Knoxville (TYS), 36 miles, and Nashville (BNA), 208 miles.
Mark Winner