Pigeon Forge, Tennessee
Festival Site Updates
Jam Session Being Planned
August 23, 2013
Attention country and bluegrass music fans! An informal jam session is being planned for this year's Feast in Pigeon Forge from 7 to 9 p.m. on Monday, Sept. 23. Musicians are encouraged to bring their instruments; and of course, singers should bring their voices. We hope others will plan to come and enjoy some good music. Please contact Tim Groves at 864-348-7731 if you have any questions.
---
Singles' Events Posted
July 22, 2013
Details of the singles' events planned for this year's Feast in Pigeon Forge have been posted at http://feast.cogwa.org/uploads/Pigeon_Forge_Singles_Schedule.pdf. If you are single, please check out this information and make reservations for any of the events you plan to attend.
Feast Schedule and Activity Information Available
July 1, 2013
A schedule and description of activities for the Pigeon Forge site has been posted to the Feast website. Check out what will be happening and be aware of any events that may require registration or advance ticket purchase by going to the activities and schedule for Pigeon Forge.
Also, the special music coordinators and adult choir directors have been announced for U.S. Feast sites. If you need to contact the special music coordinator or choir director for your Feast site, you can find this information at http://feast.cogwa.org/uploads/Feast_Music_Coordinators_2013.pdf.
Site Description
Nestled in the foothills of the Smoky Mountains, Pigeon Forge, Tennessee, is known as one of the top family vacation destinations in the country. If you enjoy the outdoors, there is much for you. The Feast of Tabernacles takes place when you can enjoy the fall colors, so its natural beauty brings out the outdoorsman in everyone. If you enjoy quality family time, good family entertainment, a wide selection of restaurants and plenty of shopping, you will love Pigeon Forge.
Although the area is known for its many craft stores, its wonderful musicians, and its countless go-kart tracks and miniature golf courses, it also boasts one of the most active, well-represented outlet malls in the entire country. Additionally, in neighboring Gatlinburg you and your family can take in the beautiful Ripley's Aquarium of the Smokies. We are planning to put together a well-balanced activity schedule sure to interest all tastes.
Housing consists of a variety of motel rooms with many offering a full breakfast in the rate. And, of course, there are also beautiful one- to four-bedroom condos. Or, for those with extended families wanting to share, there are large chalets and cabins that sleep up to 30. Housing prices begin at $52.75 per night and go up from there. This is also an area with several campgrounds for those who might enjoy camping during the Feast.
Pigeon Forge is easily traveled. There is a divided highway through the middle of the town. The Smoky Mountain Convention Center has free parking and has no steps, so it is also easily accessible for everyone.
Location of Services: Smoky Mountain Convention Center, 4010 Parkway, Pigeon Forge, TN 37868.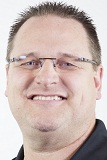 First Service: Wednesday, Sept. 18, 7:30 p.m.
Mark Winner