Register
Park City, Utah

Site Description
The site of the annual Sundance Film Festival and many of the events of the 2002 Salt Lake City Winter Olympics, Park City is amazingly close to Salt Lake City—just 35 mostly freeway miles from the international airport. The elevation of 6,900 feet is lower than many Rocky Mountain ski resorts, but the area boasts "the greatest snow on earth."
Park City is an old silver mining boom town. It began in the 1860s, and by 1880 it had a population of 10,000. But in 1898 a great fire destroyed 200 homes and businesses. It was rebuilt, and many of those buildings are found along historic Main Street and are still in use.
Utah Olympic Park provides a feel of those Olympics of a decade ago. It was at this location that the bobsled, luge and ski jumping events were held.
There are over 130 restaurants in Park City, with purportedly more chefs per capita than in Paris! Numerous tourist shops are clustered along Main Street, interspersed with many of the restaurants. Other types of shopping are scattered around the area, including full-service supermarkets and a Walmart.
We are changing venues this year and will be at the Prospector Hotel, which is less than a mile from last year's facility, the Yarrow. The Prospector has a few large condominiums but mostly small to medium condominium-style units with full kitchens. These are located in several buildings within easy walking distance of the meeting facility.
Daytime temperatures in September average 71 for a high and40 for a nighttime low. Precipitation for September averages 1.75 inches overall, with a snowfall of 1.1 inches.
Since Salt Lake City is so close, it will be very easy to visit some of the sites in this intriguing city. The Mormon Temple Square is quite interesting. Or you can hire a sailboat for an outing on the Great Salt Lake. Recreation, such as golfing and hot air balloon rides, is available around Park City.
Opening night services will be held at 7:30 p.m. Wednesday, Sept. 18., in the theater of the Prospector Hotel. Free parking is available, but a parking pass is required. We will announce how to obtain one of these and put that information in the activity planner.
Location of Services: Prospector Hotel, 2175 Sidewinder Drive, Park City, UT 84060.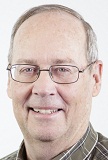 First Service: Wednesday, Sept. 18, at 7:30 p.m.
Larry Neff