Register
Branson, Missouri

Site Description
The beauty and tranquility of the Ozark hills have beckoned visitors for over 100 years. Harold Wright's book Shepherd of the Hills, which later became a movie, increased the interest. The warmth and friendliness of the people make folks feel at home. Overlay that warmth and tranquility with a vibrant area like Branson, and you have a wonderful location for the Feast of Tabernacles.
Beautiful mountain and lake settings, live music shows (including Joseph, the musical), and shopping at Branson Landing or the outlet malls are only a few of the attractions. There are also six golf courses, seven or eight zip-line/adventure tours, plus numerous miniature golf courses and go-kart tracks for the younger ages.
Whether you are active or want to simply relax in the midst of God's creation, Branson has something to attract everyone. We offer a full range of economical housing, ranging from motels to first-class hotels and from cabins and houses to condos.
The White House Theatre offers a state-of-the-art theater with a separate section in the theater for families with children, so they can be comfortable and still be part of the service.
Daytime temperatures are generally in the 60s to low 70s, and nighttime temperatures are about 45 to 55.
Location of Services: White House Theatre, 2255 Gretna Road, Branson, MO 65616.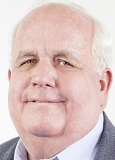 First Service: Thursday, Sept. 19, at 10 a.m.
Mike Blackwell